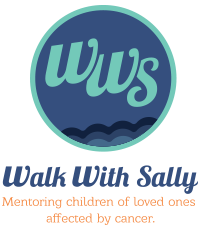 Dear Families, Friends, Supporters and the entire Walk With Sally Community, 
As you know, these last few months have been exhausting, frustrating, filled with uncertainty and most of all, isolating. If you're anything like me, you are itching to get out of your home, see friends and family in person, and feel the support of this incredible community.  But here we are, still doing what we can to stay safe for the sake of our community at large.
The mental and emotional toll of this "new normal" has been a tough addition to our daily lives.  And we're the fortunate ones. Think back to when you were a young adolescent and the challenges you faced, trying to "fit in," keeping up with school, developmental emotions as you're trying to gain your independence. Each child in the Walk With Sally program is going through all of that, plus the devastating impact of cancer at home. Now they've been dealt this incredible blow of social isolation thanks to COVID. It's almost insurmountable.
Here are ways in which Walk With Sally pivoted to provide uninterrupted continuity of services for our mentees during this global pandemic:
Provided laptop and internet service access to isolated children to ensure they could continue their school work and meetings with mentors.
Provided financial support to underserved families in need, in the form of rent and grocery cards.
Treated 140 families to pizza kits from Locale90 as a meal and fun activity for mentors and mentees to share.
Conducted virtual meditations, art healing, talent shows, and dance parties. We also provided mentors and mentees with arts and science kits to support continued connection so they could learn a new skill or craft together.
Provided three graduating seniors with financial assistance as a college pathway to cover books and expenses.
It's vital that White Light White Night goes on this year; for two reasons:
First, so WWS can continue to support these kids who are being deeply affected by everything a normal kid goes through, plus cancer, and now, the impact of COVID.  Mentorship has been proven to lessen the detrimental impact of social isolation on children, just knowing there's someone outside the home to talk to can have incredibly positive effects.

And second, we could all use a reason to unite, get dressed up, and have some fun!
White Light White Night continues to be a major piece of our annual fundraising initiatives, funding nearly 60% of our operating budget.  Without this night, 60% of our services could be cut, 60% of families looking for any kind of support to help them during their battle with cancer could be turned away, 60% of mentees who just need a listening ear could sit on our wait list. 
Your support and contributions will make sure that doesn't happen. Your support will take us closer to the goal of creating a world where no child walks alone in the face of a loved one's cancer.
Now some good news: I needed to share a story that you helped make possible.  Last week I had the pleasure of saying good-bye to Matthew and Ed as they left to take Matt to college.  Matthew came to WWS through Inglewood Unified School District in 2016.  His counselor told us that Matthew lost his mother to breast cancer and without a dad, he was being raised by siblings and eventually his aunt.  Soon after, we brought Ed into his life, a fantastic mentor looking to give back.
After more than 4 years since that day they met, they've created a lifelong bond.  Because of YOU, they learned how to surf and ice skate with other kids impacted by cancer, developed future goals and even shared cooking secrets.
This year Matthew, with the help of Ed, was accepted to a small college in Michigan with his Walk With Sally scholarship in hand!  
I hope you'll join me on Saturday, August 22nd, in any way you can, whether it's by tuning in or making a donation, bidding on an auction item, or taking your chance with the sweepstakes.  Together we can make this world a brighter place, together we can support families impacted by cancer, together we SHINE!
With all my gratitude,
Nicholas Arquette
____________________
To find out more about this year's fundraising event, White Light White Night Safe@Home, pre-register here: wlwn2020.givesmart.com