Walk With Sally Founder & CEO Steps Down
Today, the Walk With Sally Board of Directors announced its Founder and CEO, Nicholas Arquette, will be stepping aside from day-to-day-operations after founding the nonprofit nearly 17 years ago. Nick will remain the active Founder of WWS, continuing to bring its programs and signature events such as Friendship Bowl and White Light White Night to new levels of success.
"After almost 2 decades at the helm as mentor, committee member, CEO and volunteer I am ready for a new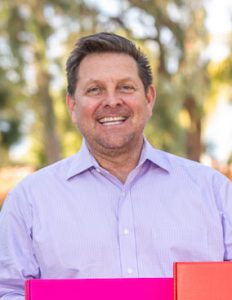 challenge. Together we made the impossible possible. Our community created a one-of-a-kind mentoring program giving kids and adults a chance to heal. I am excited for the future growth of Walk with Sally and to accelerate our mission. Fresh, innovative talent will support our long-term growth vision," Nick wrote in an e-mail to WWS's stakeholders.
Nick's time at WWS will be remembered as an era of growth, innovation, and monumental work for families throughout Los Angeles and beyond providing hope and mentorship to children experiencing trauma through a parent, guardian, or sibling's cancer journey.
"In each of Nick's many roles at WWS — founder, committee member, and CEO — he has served with an entrepreneurial spirit, vision, and most of all his insight of knowing what it is like to feel deeply affected by cancer. While this was a tough decision, his biggest priority was to leave at a time when the organization was very stable and is grateful to WWS's board and staff for their dedication and hard work," said Russell Hossain, WWS Board Chair. "We are incredibly appreciative for all he has done for families impacted by cancer. We look forward to working with him as we grow Walk With Sally in the future."
Since creating WWS in 2004, Nick has been a tireless advocate for not only families impacted by cancer but bringing the community together as a whole. The Palos Verdes Peninsula Chamber of Commerce recognized Walk With Sally 2017 as Nonprofit of the Year at their Citizen of the Year Gala.
Nick's outward-facing, community engagement approach resulted in extensive and durable relationships with organizations, businesses, and elected officials that proved instrumental to WWS's success and affirmed the organization's standing in the region.
During his tenure, the organization experienced dramatic growth and has transformed into the crucial nonprofit it is today. WWS has served over 1000 families under Nick's leadership and he created the most memorable nonprofit event in the Southbay, White Light White Night, to support WWS's wraparound services for families impacted by cancer.
Spending the last twenty years in Los Angeles working as an entrepreneur in the film, senior care, and nonprofit industries, Nick's more rewarding experiences have come from his work leading to the growth of Walk With Sally. He had the privilege of mentoring three boys since the inception of the program. As an organization, WWS's vision is to ensure no child walks alone in the face of a loved one's cancer journey. Nick is confident the next phase of WWS's journey will include vast expansion and is excited to continue his passion in the Founder role.
WWS has assembled a strong search committee to find the organization's next CEO. Experienced nonprofit leader Mark Rothman will support the Board in its search, manage daily operations, and secure WWS's foundation for its future growth and success.