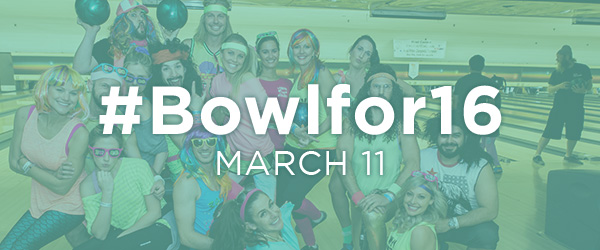 Make 16 new friendships possible at the Friendship Bowl!
Join us March 11th to support mentorships for kids watching a family member battle cancer.
Why #BowlFor16?
The Friendship Bowl is Walk With Sally's high-energy spring fundraiser! Bowl with us at Palos Verdes Bowl on March 11th as an individual or with a team.  Our goal is to raise $80,000, which will support 16 new Walk With Sally friendships.
How can you #BowlFor16?
Fundraise a minimum of $250 to participate.  It's that easy!
There are so many reasons to sign up early. Reason #1: Be one of the first five fundraisers to reach $250, and you'll earn a Walk With Sally swag bag!
Can't make it on March 11th?
Please still support us! Throw a dinner party, organize a bake sale or simply send an email with a link to your donation page to friends, family, coworkers, neighbors and your community.  Whatever you do, do it for the kids!
Details
March 11th, 12-4 p.m.
Palos Verdes Bowl
24600 Crenshaw Blvd.
Torrance, CA 90505
Get ready for fun!